We often talk about stress as a bad thing, but in small doses, stress can motivate us to finish tasks more efficiently, reach goals and find creative solutions to problems.
While it's true that chronic stress can harm our well-being, there are strategies and resources to help us handle stress in healthy and even beneficial ways.
Breathe
Stress can trigger a fight or flight response in our body, an evolutionary function where muscles tense up and our heart rate increases in response to a perceived threat to our survival. When this happens, deep breaths can help you find a calmer state.
Reflect
Stress can be overwhelming in the moment, but writing in a journal can help us reflect on what happens to us during stressful situations in our lives.
This article from VeryWellMind walks through the benefits of journaling and suggests ways to get started.
Learn more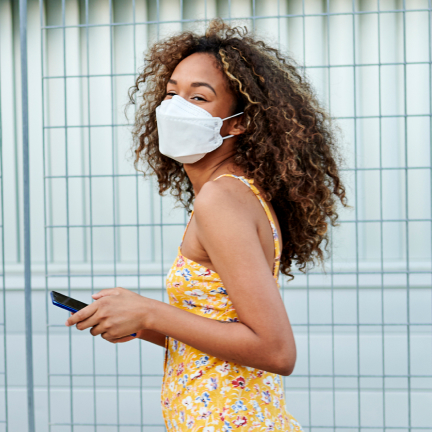 Learn
Over the last few decades, we've learned a lot about stress—what causes it, how we can prevent its negative impact, and ways it can have value in our lives.
Act
These stress management strategies from the Mayo Clinic are easy to incorporate into our lives starting today.
Avoid

By simply planning ahead, being realistic about our workloads, and saying "no" when we need to, we can avoid a lot of stress.

Alter

Reflecting during stressful moments can help us better understand what causes our stress, so we can alter our behaviors or surroundings to improve the situation.

Accept

Sometimes we can't avoid or alter a stressful situation and in those cases, it's best to talk about it and find effective ways to cope with it.

Adapt

A lot of stress is the product of our inner dialogue and perspective on the situation. By reframing the issue and adjusting our viewpoint, we can stop that stress right where it started…in our own minds.
Connect
Talking about your stress and getting advice on how to manage it can help a lot. Start the conversation with a friend or family member, reach out to a local mental health professional, access one of the resources below or browse the full directory here.
When contacting a resource below, any information you provide will be collected and used by that resource, subject to its end user terms and conditions and privacy policy. Please contact the applicable resource if you would like more information. 
Resource
Type
Contact

Crisis Text Line

Have a free, confidential chat with a trained counselor. Available 24/7.

Text Line

Text ACTION to 741-741

Lifeline

Call for a free, confidential conversation with a trained counselor. Available 24/7.

Call Line

988

Warmline Directory

A Warmline is a free peer-run hotline that offers callers emotional support, staffed by volunteers with lived experience.

Website

Visit website

Inclusive Therapists

Inclusive Therapists offers a safer, simpler way to find a culturally responsive, social justice-oriented therapist.

Website

Visit website

ADAA Therapist Search

A tool to help find local mental health services, including teletherapy options.

Website

Visit website

BetterHelp

A paid online portal that provides access to mental health services, including online counseling, phone, and text communication.

Website

Visit website

Talkspace

A paid online text therapy platform that provides 24/7 access to licensed therapists who cover a broad range of mental health services.

Website

Visit website

Outside the U.S.? Find a Helpline

Free emotional support, wherever you are.

Website

Visit website
Need help now?
If your stress is interfering with your everyday quality of life, it's important to reach out for support from a mental health professional.